September 9th, 2023 – Ashville AL Highschool – Rolling at 8:00 am
Come join the Birmingham Bicycle Club for our 50th Annual Century, one of the most beautiful centuries in the Southeast.
Proceeds from this years event will be used to help promote cycling safety and driver education.
Our starting location is Ashville High School, located on U.S. 231 just south of downtown Ashville, AL.
Routes of 25, 50, 64, and 100 will be offered – all recreational friendly and scenic.
Online Registration will be open until September 9th. Please be aware that we are utilizing the contactless registration process so you will need to Register on-line onsite as well.
Onsite Registration, Check In an Packet Pickup, September 9th begins at 6:45 a.m. at Ashville High School – 33215 US-231, Ashville, AL 35953
We will be following Alabama Department of Health Guideline that are in play at the time of our event.
*Bike helmets are required to participate, all ages and all distances.
Ride Start Times:
8:00 am. Ride Rolls at 8:00 AM as a Mass Start. You will be required to follow the lead vehicle until given the Green Flag
Post Meal: Begins at 10:30 a.m. – (Vegetarian options available too.)
Registration fees:
(Please be aware that we ride rain or shine and there are no refunds for registration. Registration Transfers are not allowed. Please contact bbc_president@bhambikeclub.org if you need help.)
Slow Roll Plus (25 miles) all riders regardless of age
$50 – Regardless of when you Register
Century, Metric and Anniversary Routes
$50 – Early Bird through May 31st
$60 – June 1 through September 9th
$100 – Gets you the ride of your choice and the 50th Anniversary Jersey – through May 31st (Jersey will be available at Packet Pickup before ride day)
$120 – Gets you the ride of your choice and the 50th Anniversary Jersey – June 1st through September 9th (Jerseys will be available early November)
(Processing fees will be added to your registration at check out)
Early Packet Pick Up:
Early packet pickup location will be announced closer to Ride Day
ASHVILLE HIGH SCHOOL DAY OF RIDE LAYOUT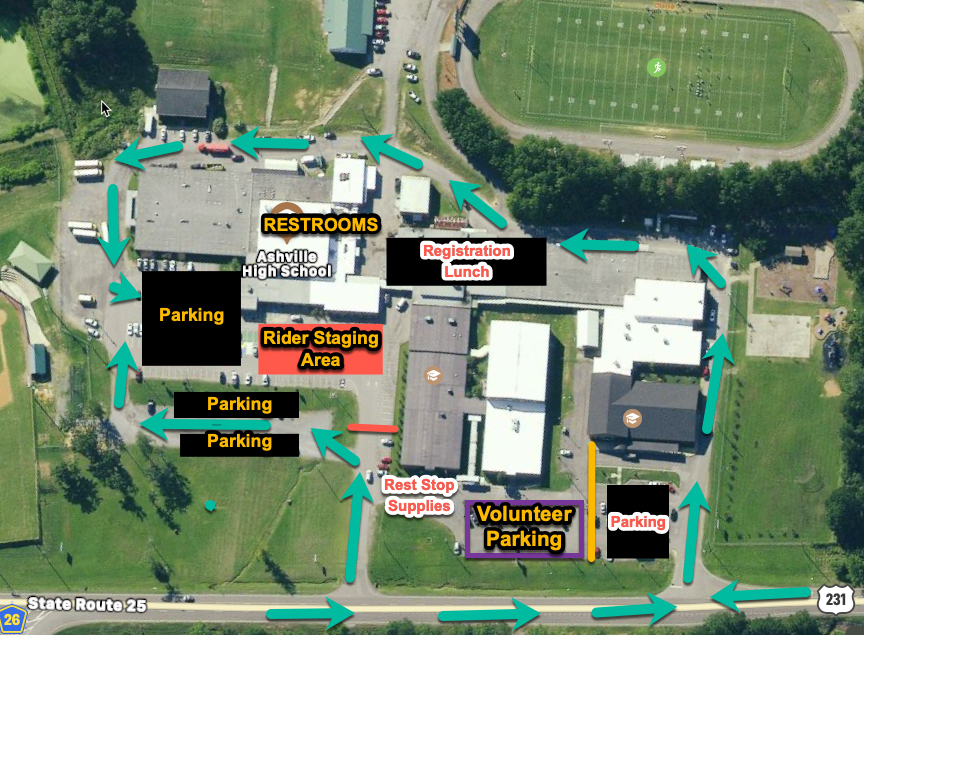 ---
Century Merchandise
We are offering for purchase the Special 50th Anniversary BBC 100 Men's and Women's Jersey's. You can choose that option during Registration or purchase directly from our Merchandize page. They are Sport Style with Standard Fit. Primal's Nexus Jersey.
You can see the design at https://bhambikeclub.org/main/?page_id=1071
Size Guide can be found at Size Guide
Merchandise must be purchased before June 1st to be available at Packet Pickup and or Ride Day.
Lodging:
Courtyard by Marriott
3665 Roosevelt Blvd, Birmingham, AL 35235
(205) 661-2280
Fairfield Inn & Suites
116 Walker Street, Gadsden, AL 35904
(256) 538-2100
Hampton Inn & Suites
1940 Edwards Lake Road B'ham, Al. 35235
(205) 655-9777
Camping & Lodging available @
Camp Sumatanga
3616 Sumatanga Road, Gallant, AL 35972
(256) 538-9860
Route Information:
Please visit our Club Ride with GPS page. If you are a BBC Club Member you will have Premium Access to the Routes through the BBC RWGPS Club Membership.
(All mileages are approximate but pretty darn close, any updates will be noted here and on the Club's RidewithGPS page)
♣ Slow Roll Plus – 25 miles – Orange Road Markings
This is a scenic and friendly route without any significant climbs. It will take you through rural farmlands and out to Neely Henry Lake. Yes, and pass an elephant! There is one full rest stop on this route and you might see a "pop-up" stop as well!
♣ Anniversary Route – 50 miles – Yellow Road Markings
Honoring 50 years this century has been held this is a pretty and manageable distance to tackle for even novice riders. Only +1400 ft of climbing and takes you to Riddles Bend and over to Steele and back to Ashville town square and then ending back at Ashville High School. Follows the same route as the metric until Ashville. – There are three full rest stops on this route.
♣ Metric Century – 64 miles – Green Road Markings
You can claim you've ridden a 100 (Kilometers)! Our pretty metric has a northern loop that takes you to Riddles Bend and then over to Steele. After the Steele rest stop you will return to the town square of Ashville for a rest stop and then head out of Ashville to make a loop to the south west and to the finish line after the "little" climb up Beaver Mountain. The pretty hills will have you climb about 2,200 ft. There are four full rest stops on the route and a few pop-ups to fill in along the way.
♣ Full Century – 100 miles – White Road Markings Our full century is the same roads as the metric but splits off to follow the scenic ride and climb through Riddles Bend along the Coosa River up to Rainbow City. The route rejoins the metric and makes it way to Steel. Enjoy the long flat leaving Steele before heading up the two mile climb to the top of Straight Mountain where the view is superior. This climb is new to the full Century this year. The route then returns to the town square in Ashville and picks up the metric route to make the final loop to the south west and finishing at the high school. The full route is about 4,000 vertical feet. There are six full rest stops on this route.
IMPORTANT NOTES FOR ALL ROUTES:
There is a 9 hour time limit to be off the course.
Riders must be back at the school no later that 5:00 pm.
For riders arriving at our Ashville Rest Stop after 2:30 pm, they will be directed to a shorter return route back to the finish line.
We look forward to seeing everyone at our 50th Century Celebration.